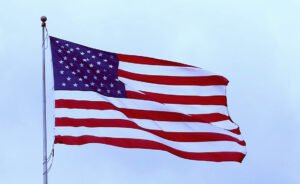 Spring is coming!
It's time for a flagpole tune-up!
As we are cleaning up our spaces and getting ready for spring, don't forget to look up at your flagpole! Generally speaking, flagpoles are pretty maintenance free, but there are things that sometimes need our attention.
Let's start at the top of your flagpole.
How does your ball topper or Eagle look? Is the ball faded or dented? Is it missing a piece? Is the eagle still fully intact?
How about the truck/pulley for your halyard/rope? Does the rope glide through the pulley with no resistance? If your truck is a rotating truck, is it still rotating appropriately?
How about your halyard/rope itself? Is your halyard looking beat up or frayed? (A little tip: it is much easier to replace your rope when it is still intact than after it has broken, causing your flag to fall to the ground.)
How do your flag clips look? Are they almost worn through or is part of the clip broken?
For internal halyard flagpoles, how do your retaining beads look? Are most of them missing? If more wire is showing than beads, it's time to replace these.
How about the flash collar at the base of your flagpole (if you have one)? Is it dented or scratched, or did it make it through the winter unscathed?
Don't forget about your flags! Winter is always hard on them and they will likely need to be replaced.
Also, consider having two flags on hand. Flag fibers benefit from a period of "rest". You will also not be without a flag when it comes time to replace, clean, or repair your flag.
There are many flagpole parts for various flagpoles that are not listed above.
Red River Flags offers flags, flagpoles, and flagpole parts for all types of flagpoles (internal/external halyard poles).
If you find you need any of these things, please feel free to give us a call. We would love to help you with all your flag and flagpole needs!
Red River Flags
218/443-0065
Denise@redriverflags.com