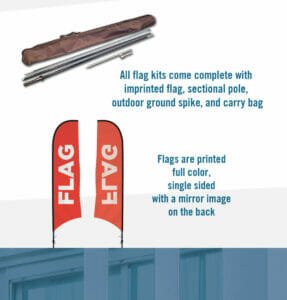 Not only does Red River Flags offer Flags, Flagpoles, and Flagpole Parts/Accessories, we also offer many different Promotional Products.
Some of our Promotional Products include: Feather Style Flags, Indoor Banners, Outdoor Banners, Pennant Strings, Printed Corrugated Signs, Sidewalk Signs, Window/Wall/Concrete Graphics and Decals, as well as Boulevard Banners, Drape Flags, Sidewalk Flags etc.
Check out our online catalog to get great ideas for an upcoming event, opening, or sale!
https://www.zoomcats.com/catalog/red-river-flags
Red River Flags
(218) 443-0065
Denise@redriverflags.com
www.redriverflags.com
Promotional Products – Red River Flags